✔ NATURAL AND HEALTHY-- Unique from others, everything you touch is the original cotton color, both face and the filling (nothing from animals). It contains no coloring or chemicals, perfect for kids and other sensitive groups.
✔ ULTRA SOFT -- This breathable lightweight comforter is made of the highest quality cotton raw material, for years to last, ultra-soft like your second skin.

✔ SOPHISTICATED -- A versatile hue for any space, pairs well with both bright and muted accent colors for a modern yet sophisticated look. The comforter cover can be used with or without according to personal preference.

✔ Convenient -- Machine washable comforter cover, you will always lay in freshness. Hidden inside ties will keep your comforter in place. Machine wash in cold separately. Tumble dry no heat or sun dry for longer life quality.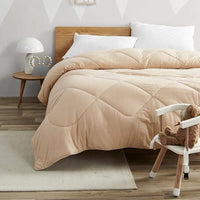 REVIEWS
100% cotton, no bleaching, natural quilt, I like it so much. The queen size I bought was for my son. I like this. The color is soft, I think I will buy another set for myself, satisfied shopping

Grace
I'm really happy with this cotton made comforter! It's so soft and lightweight, I feel like my sleeping is better since I use this new comforter. And it looks very nice too. So I definitely recommend this product to my family and friends.

Gregg W.
I have some quilts, but prefer it over my other quilts. Long size is great, no short changing the size and it's more than enough to comfortably use every night and feel like you have plenty of cover that isn't going to slip off you.

Edison hardwood